Hi, we just encontered a important bug in SolidCP lastest version. If you "Create Hosting Space" of "sub.domain1.com" and "domain1.com" already exists in the system, there will be a very strange outcome. "sub.domain1.com" will be created for NO user. There will be a "sub" DNS RECORD for "domain1.com" but the user that actual tried to create it, will never see the hosting space "sub.domain1.com", instead it will only be visible in Account Menu -> Spaces with Administrator user, making the client user imposible to create the subdomain, having to send us a ticket, loosing time, loosing pacience, loosing the client. SolidCP should correctly create the SUBDOMAIN, or totally reject the operation and avoid this strange behavior.
Thank you in advance.
Thank you for your fast reply.
I must say that sometimes this forum bugs and when clicking "Insert image" it will redirect me to main page, loosing all text writen. Happens the same sometimes when clicking "Category" and selecting a category. Realy strange and frustrating 🙂
Getting back to the problem. We did some testing and now everytime we create a new Space, it is asigned to user correctly. We cannot reproduce the problem again. The only change we did meantime was correctly configure FTP (before when creating a website, adding a ftp account would faill with a error message. Maybe that must have stoped the process of creating correctly the Space, leaving it orphaned with no user.)
3 things to point out when creating a Hosting Space:
Top-Level domain should be the main domain, even if the website is in another Hosting Space. This is because if user wants to create another subdomain in this hosting space, he will only be able to create a third-level subdomain, like "subd2.subd.fasttrackhost.es" and he won't be able to create "subd2.fasttrackhost.es" (only in the Hosting Space with the "fasttrackhost.es")

2. The Hosting Space select box should be available in every menu item under "Hosting Space Menu" so the user can easily change from one Hosting Space to another (for users that have multiple Hosting Spaces).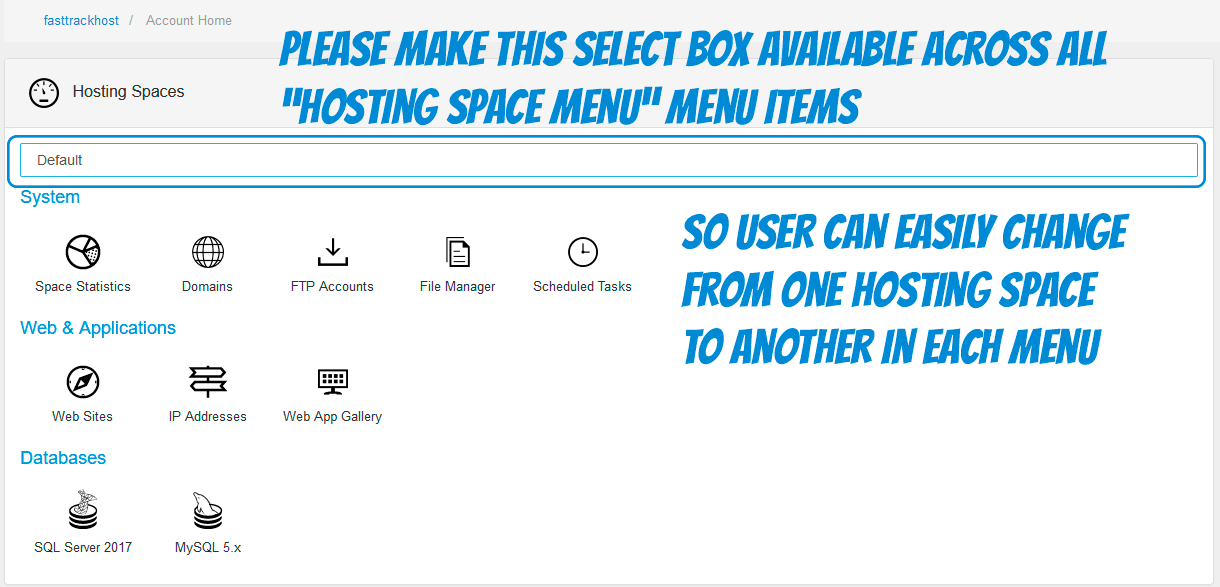 3. When a user has multiple Hosting Space's it is hard to make a diferrence between each one of them if every one is called "Default". There should be a input to give the Hosting Space another name.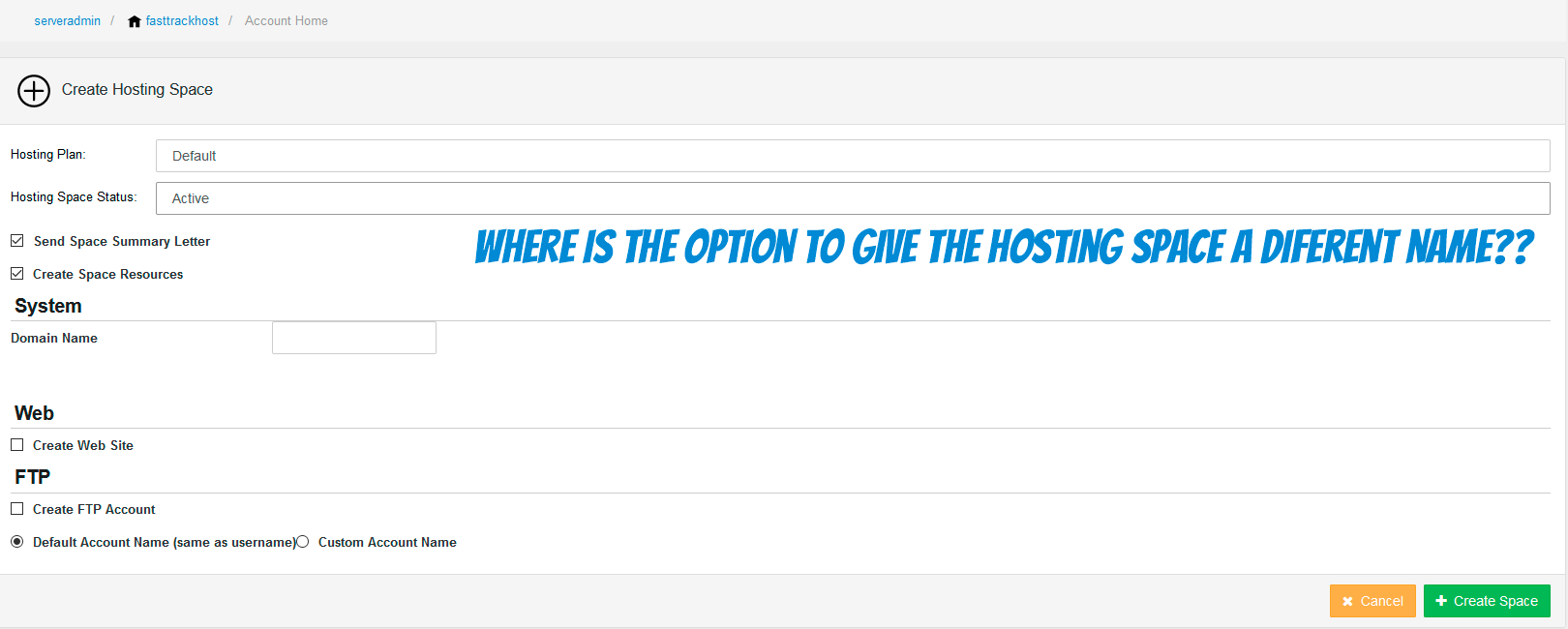 Great job, but I have to point out that SolidCP seems a easy to use GUI, but there are many very small changes that can be done to make it more user friendly. For example, the Hosting Spaces view: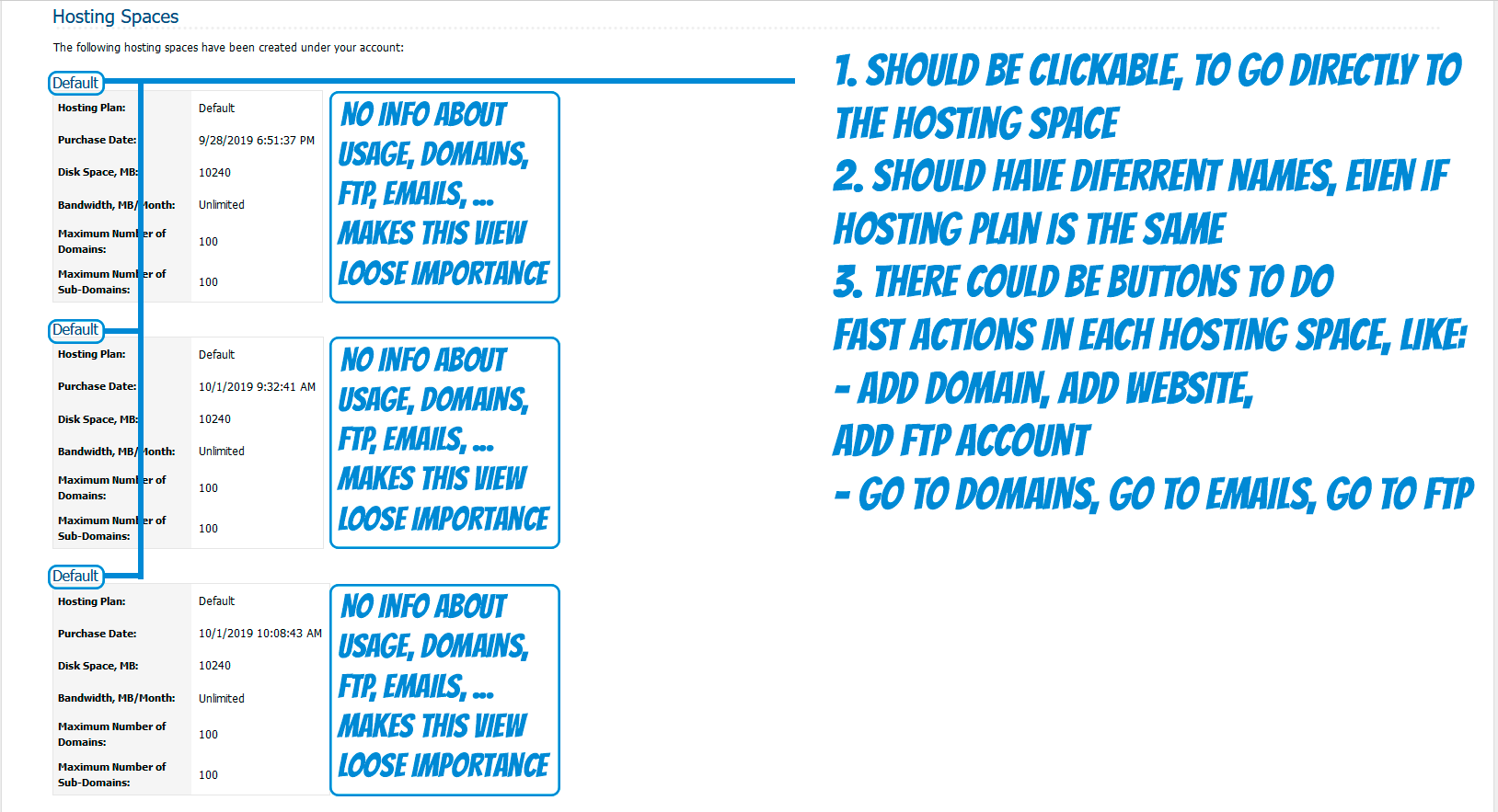 Just ideas, again great job and thank you.
You are viewing 1 out of 2 answers, click here to view all answers.
Search questions
Question stats
Active

Views

459 times

Answers

2

answers