This is urgent. Since upgrading to 1.4.4 we are experiencing multiple issues. The accessing of mysql server is a MAJOR Issue. And I have just had a reseller tell me he cant add email accounts to a user of his. I can confirm this if I create a mail account as admin it works 100%, however if I login as the reseller or the user themselves and try and add an account it does not give any error, it just fails to add the email account, and in the auditlog this is logged, please we need to urgently address this as my users getting upset. I have manually run the db update script with no change.
The reseller and user account can create aliases, groups, domains, websites, etc it seems only linked to creation of mailboxes that this error occurs. Admin user works 100% creating mail acct.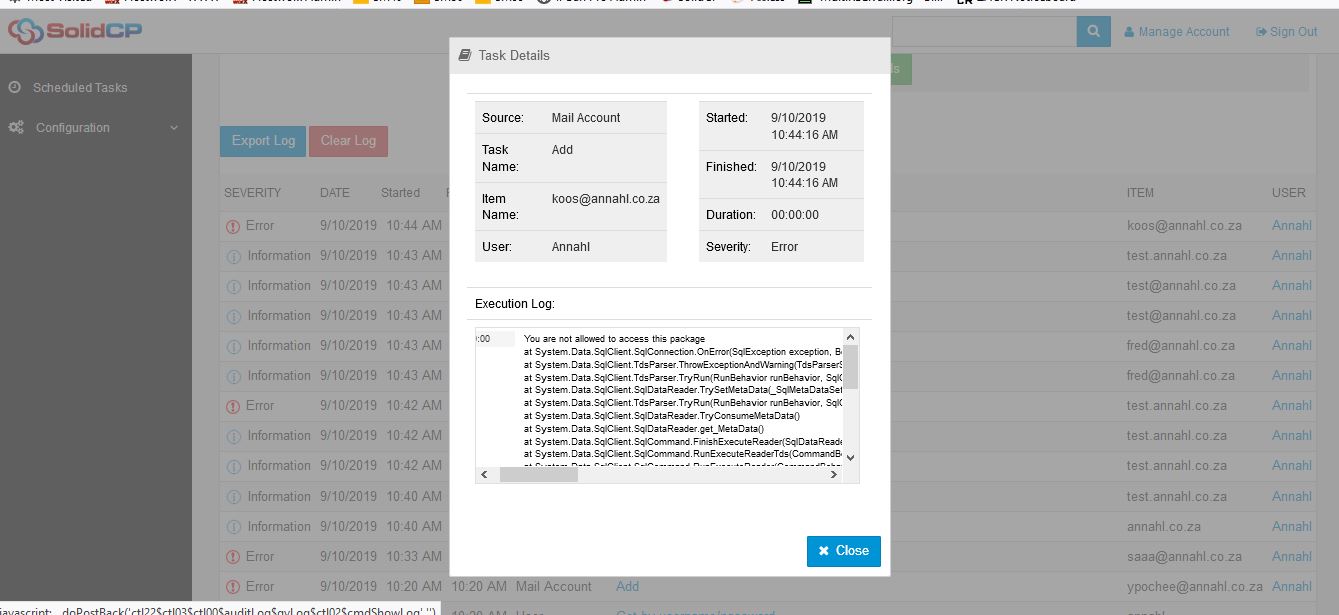 Hi,
Ok I edited this post, as this will be more highlighting than my message before. 🙂
I went through everything in the dbs and compared accounts settings etc and could not find anything specific that was different. hosting plans the same, etc only difference was serveradmin and resellers. So I concentrated on reseller accounts first.  I created a reseller account and activated everything that was able to be activated, (just dont tick the disable top level tld checkbox, else you wont be able to add a domain) I then assigned this plan to the reseller  and voila it started to work, so I assumed (again Assumption is the MF of all buggerups) if I recreated my reseller hoting plans this might fix it, and once I recreated the plans and assigned it to the reseller, NO same issues.
This led me then to revert back to the other plan with everything enabled and it worked. So I started to go through the hosting plan applying quotas on a per option basis. And eventually when I got down to the mail quotas, the moment I specified a mailbox size maximum it started with its nonsence. I then reverted the reseller back to the original plan and changed the mailbox to unlimited and it started to work. GREAT, So now this seems to be the issue. I however also had the disable mailbox size edit checkbox enabled, so I unticked this, and still could create a mailbox, I then applied a mailbox limit with the edit option off and what do you know.. I can create a mailbox.
So this issue looks like the following :
Mailbox size defined, Disable Mailbox Size Edit is checked –   NO mailbox creation or updating.
Mailbox size unlimited, Disable Mailbox Size Edit is checked – You can create or update mailboxes.
Mailbox size defined, Disable Mailbox Size Edit is unchecked – You can create or update mailboxes.
Mailbox size defined, Disable Mailbox Size Edit is unchecked – You can create or update mailboxes.
The errors that the system logs are totally misleading as they specify you dont have access to the package ?? WTF ???
Anyway so if you want to define a mailbox size manually you cannot disable the mailbox edit field, this is a bit of a buggerup, as if you defina mailbox size and want to prevent them from editing the size you cant.
You are viewing 1 out of 16 answers, click here to view all answers.
Search questions
Question stats
Active

Views

521 times

Answers

16

answers