Hello SolidCP's (forum) users and mods,
There's an issue that I brought up on TechNet yesterday, but I was advised to also post up something on the forum of SolidCP itself (by my boss). I've been setting up a SolidCP test environment, as you can see here:
https://social.technet.microsoft.com/Forums/office/en-US/0ba55ab9-76e1-49f9-afd6-0bc185873379/solidcp-former-websitepanel-createmailbox-error?forum=exchangesvrdeploy
Now as you can see in my last reply I posted the latest error I had on creating a mailbox for a reseller's customer and I wonder if y'all can help me out on this one. I hope so, that would be awesome.
This is a screenshot of SolidCP Portal with the given error message: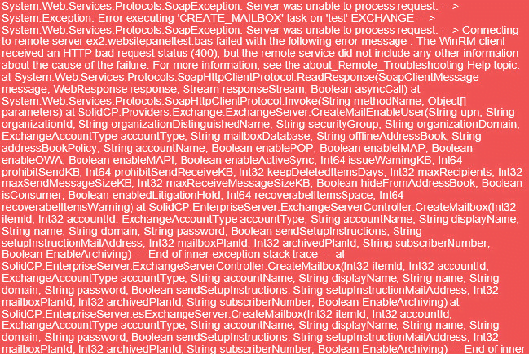 With all thanks,
Bas
I think a bug fix needs to be released for this issue, it's pretty weird.
"Server was unable to process request. —> Cannot find path " because it does not exist."
You are viewing 1 out of 12 answers, click here to view all answers.
Search questions
Question stats
Active

Views

13350 times

Answers

12

answers