Hello SolidCP's (forum) users and mods,
There's an issue that I brought up on TechNet yesterday, but I was advised to also post up something on the forum of SolidCP itself (by my boss). I've been setting up a SolidCP test environment, as you can see here:
https://social.technet.microsoft.com/Forums/office/en-US/0ba55ab9-76e1-49f9-afd6-0bc185873379/solidcp-former-websitepanel-createmailbox-error?forum=exchangesvrdeploy
Now as you can see in my last reply I posted the latest error I had on creating a mailbox for a reseller's customer and I wonder if y'all can help me out on this one. I hope so, that would be awesome.
This is a screenshot of SolidCP Portal with the given error message: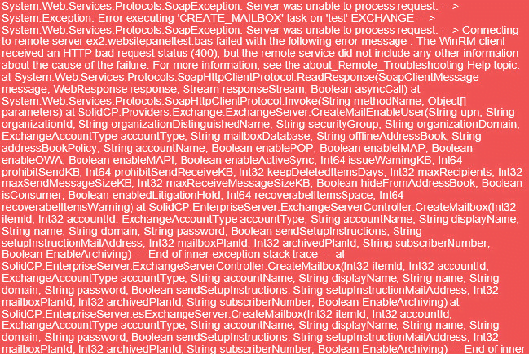 With all thanks,
Bas
Checked the writing plus the video, still I'm getting stuck at weird points. Right now I have trouble even creating an Hosted Organization. It says that the result objects are empty, don't exist.

Thanks!
To be more precise, the problem lies in creating a Hosting Space inside a reseller's account. When I do that, no Organization Unit is being made, which causes the "Server was unable to process request. —> Execution result does not contain any object." Error.
Funny thing is though, when I create a user inside that reseller that makes use of that Hosting Space, it actually creates an Organization Unit that is not able to bind to the reseller's Hosting Space Organization Unit, because of non-existence.
Hope that helps and that I made it clear.

You are viewing 1 out of 12 answers, click here to view all answers.
Search questions
Question stats
Active

Views

12737 times

Answers

12

answers