Setup Cloud Folders
Hi there...
I was tried to set up the Cloud Folders.
I followed the tutorial at https://solidcp.com/kb/configuration/cloud-storage-configuration/ but after complete I not see a option to add the cloud folders for a user in the SolidCP portal.
I have included in the hosting plan a option for Cloud Folders but still I can´t add this to the users.
Anyone can help me?
Tks,
Marcel Souza
Pds Informática
Hello,
Does the customer inside SolidCP also have a Hosted Organization assigned? You should see it under the Organization Menu for the customer.
Kind Regards,
Trevor
Hi...
The customer didn´t have a Hosted Organization assigned.
The problem is when the customer is a reseller, the portal does not show the Hosted Organization menu.
These options only show when the reseller have one Hosted Organization assigned.
To assign the first Hosted Organization, I need to convert the reseller account to user account and from this way I see the Hosting Spaces icons. And the icon for Hosted Organizations are shown.
For the Reseller accounts I can´t see the Hosting Spaces icons. The portal only shows the Space Quotas when I click on Hosting Space name.
Hello,
This issue should be resolved in 1.0.2 which goes stable in 9 days.
You can also update to the beta and later swap back to stable if you want / need
It is still a bit basic (menu still needs some more fixes) but it should take care of the run around with hosted org / hosting space menu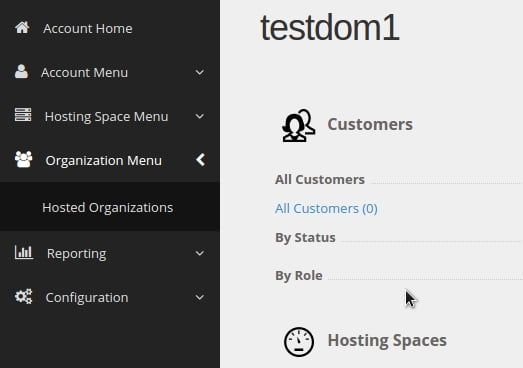 Hi... I was trying again install the Cloud folders. Now I have the version 1.0.3 installed. When I try to setup the cloud services in my server, I can't set the cloud server path. The box are disabled with value ":".
What might be happening?
Tks,
Marcel