Hi Guys,
We have released a script to upgrade your SolidCP deployment to the latest version, but the tool can be used to test the latest BETA version as well.
There is an article about this here https://solidcp.com/kb/update/solidcp-update-script-powershell/
We would welcome any feedback regarding the script as it is still in BETA stage.
The script will upgrade all of your current SolidCP environment to the latest stable version of SolidCP or the latest BETA version of SolidCP and will take a FULL backup of each component that is upgraded.
DO NOT use this script to upgrade from Website Panel or MSP Control as it has been written to upgrade existing SolidCP deployments ONLY.
Hi Team,
All my solidcp websites (enterprise, server, portal) can not load web.config file after automatic update script.
when I login in to solidcp portal I see this error:
HTTP Error 500.19 – Internal Server Error
The requested page cannot be accessed because the related configuration data for the page is invalid.
Detailed Error Information:
Module
IIS Web Core
Notification
Unknown
Handler
Not yet determined
Error Code
0x8007000d
Config Error
Only one <configSections> element allowed. It must be the first child element of the root <configuration> element
Config File
\?C:SolidCPPortalweb.config
Requested URL
http://my.domain.com:9001/
Physical Path
Logon Method
Not yet determined
Logon User
Not yet determined
Config Source:
67: <!– SECTION END–>
68: <configSections>
69: <sectionGroup name="jsEngineSwitcher">
Also  errors from IIS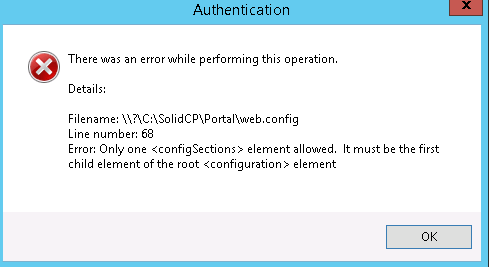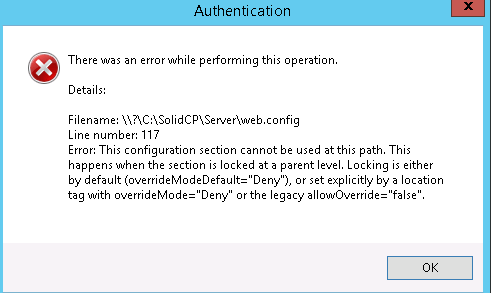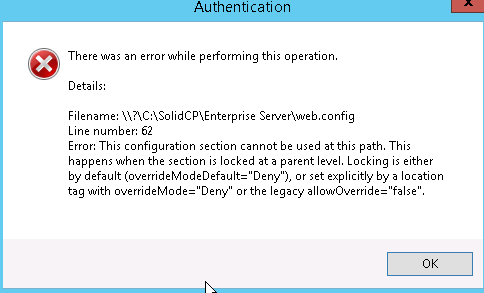 You are viewing 1 out of 34 answers, click here to view all answers.
Search questions
Question stats
Active

Views

29591 times

Answers

34

answers