Hey all,
the latest SolidCP WHMCS module is updated in the WHMCS marketplace (but the changelog is still not updated there).
v. 1.1.2 – 05 Dec. 2016
Changelog
– Compatible with WHMCS v7 and PHP 7 (WHMCS < 6 and PHP < 5.3.7 are NOT supported anymore)
– Transition to new DB framework in WHMCS due to deprecated old database connections
– Fixed adding addons in Admin panel
– German module language added in admin area
– Small bug fixes
Feel free to download on https://marketplace.whmcs.com/product/1430 and don't forget to leave a 5 star vote :).
Best regards
Bogdan
Sorry for the longer delay.
Your PHPinfo from the Linux hosting server looks ok. SOAP is enabled, so it should be fine for the WHMCS SolidCP module.
If you have made a standard installation of SolidCP, then the Enterprise Server should listen on the default port 9002, so it's not needed to use any custom port (if you haven't changed it on the SolidCP side).
The problem is on the SolidCP side. When I try to access http://31.3.250.226:9002/, I'm getting a 403 error. So I suppose that the WHMCS SolidCP plugin is getting the same error.
If everything is fine on the SolidCP side, then you will see a page like the attached screenshot.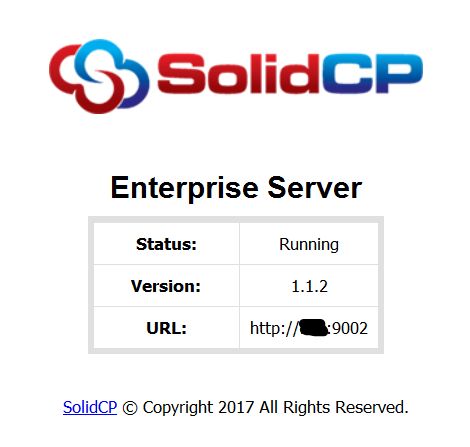 I suppose that the SolidCP enterprise server has a wrong binding. But I wouldn't recommend to leave the SolidCP ports open to the whole internet. For testing purposes you can bind the SolidCP enterprise server to your external IP and try again to connect from the WHMCS SolidCP module.
BUT: After testing please remove all PHPinfo files from your server and create a VPN connection between your Linux and SolidCP server to connect between them (or limit the connections only to these two servers via the firewalls on both sides.
When you've managed to create a successful connection between WHMCS and SolidCP, then you can setup a product:
Package name: it's up to you. This name will be shown as a SolidCP hosting space name
Parent Space ID: in which space ID a new hosting space will be created. I would recommend to use "1". It's the serveradmins space ID, so every new customer will be created in this hosting space.
Mailcleaner API: if you are using an Exchange server or any other supported mail server, you can setup mailcleaner as an AntiSpam and Antivirus gateway and add the API URL of mailcleaner here. When a hosting space will be created it will add a domain to the accepted domains in Mailcleaner (not needed for Hyper-V only). It's working only if you enable "Add domain to mailcleaner".
SolidCP Plan ID: The hosting plan from SolidCP to which this WHMCS product should be linked to. You can find the right ID in SolidCP if you go to "Account Home" -> "Hosting Plans" -> Choose the hosting plan, which you want to provision with this WHMCS product. You will see the URL: https://URLTOSOLIDCP.com/Default.aspx?pid=HostingPlans&mid=XXX&ctl=edit_plan&PlanID=43&UserID=XX. The value after PlanID= is your choice.
Best regards
Bogdan
You are viewing 1 out of 26 answers, click here to view all answers.
Search questions
Question stats
Active

Views

13922 times

Answers

26

answers