Hey guys,
I'm actually facing strange problems with the installer. The installation of the components works very good, but it isn't possible to uninstall the component again. After clicking on the uninstall button, the installer start a download and execute the SolidCP.Installer.exe. After that, the application crashes. The same with the settings button.
Someone an idea how to proceed here?
Thanks in advance!
I've tried with your update files but still same problem. I have the problem on every server I've installed. Not only one server.
Forgot to tell: All our server are running on 2012 R2 with latest patches.
Here some screenshots: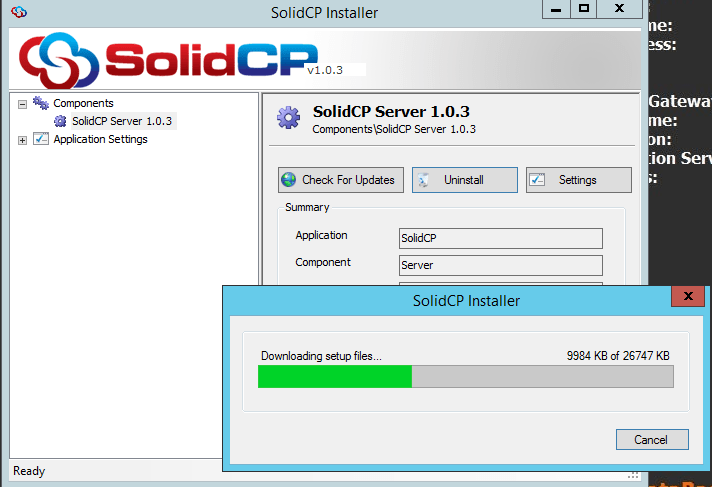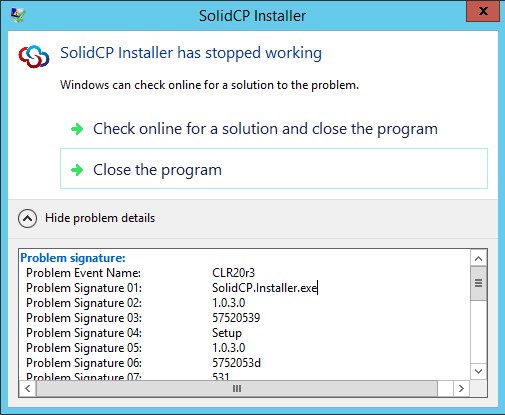 And here the exact error message when the application crashes:
Problem signature:
Problem Event Name:    CLR20r3
Problem Signature 01:    SolidCP.Installer.exe
Problem Signature 02:    1.0.3.0
Problem Signature 03:    57520539
Problem Signature 04:    Setup
Problem Signature 05:    1.0.3.0
Problem Signature 06:    5752053d
Problem Signature 07:    531
Problem Signature 08:    0
Problem Signature 09:    System.StackOverflowException
OS Version:    6.3.9600.2.0.0.400.8
Locale ID:    1033
Additional Information 1:    199c
Additional Information 2:    199cc907df8a4654c8ebf31545ec3b64
Additional Information 3:    ac93
Additional Information 4:    ac932fb721b478be6e53cf5b63cba0e7
Read our privacy statement online:
http://go.microsoft.com/fwlink/?linkid=280262
If the online privacy statement is not available, please read our privacy statement offline:
C:\Windows\system32\en-US\erofflps.txt
You are viewing 1 out of 3 answers, click here to view all answers.
Search questions
Question stats
Active

Views

4718 times

Answers

3

answers