Hi
I currently run hosted exchange and do everything manually
I'm testing out solidcp and so far its brilliant, I did notice one thing
maybe its something I haven't confirgured or something I'm missing.
It creates the org, mailboxes, evertying works, but when I go into active director domains and trust
there is no upn for the domain that was created through solidcp. Is this normal ? or is this something I need to create manually ?
please see pic attached, I created testdomain.co.za and it doesn't appear, the ones I have blocked out are my current clients upn domain suffixes
Please can you give me some feed back on this, would appreciate it
Thanks
Claude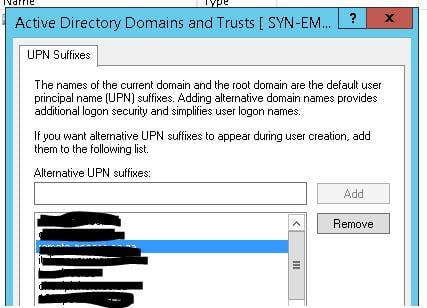 Hello,
We have actually researched this recently (it's an old WebsitePanel issue we inherited).
SolidCP does currently not create a UPN suffix (i hope to fix this in v1.1.0 but can't guarantee).
It does however still work as expected aslong as your Exchange has owa set to use UPN instead of it's default setting (you can review the exchange 2013 / 2016 guide for the command to set it).
where it gets tricky is custom settings outside solidcp (like ecp) which will not always have the correct domain suffix listed (so be careful editing outside of SolidCP untill we resolved this issue).
Regards,
Marco
You are viewing 1 out of 3 answers, click here to view all answers.
Search questions
Question stats
Active

Views

4884 times

Answers

3

answers