Hi
I currently run hosted exchange and do everything manually
I'm testing out solidcp and so far its brilliant, I did notice one thing
maybe its something I haven't confirgured or something I'm missing.
It creates the org, mailboxes, evertying works, but when I go into active director domains and trust
there is no upn for the domain that was created through solidcp. Is this normal ? or is this something I need to create manually ?
please see pic attached, I created testdomain.co.za and it doesn't appear, the ones I have blocked out are my current clients upn domain suffixes
Please can you give me some feed back on this, would appreciate it
Thanks
Claude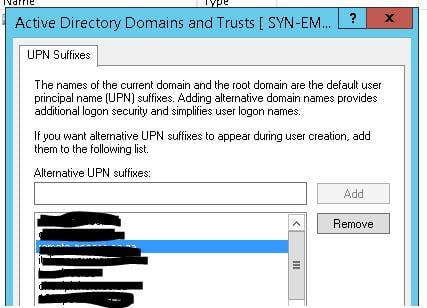 Hi Marco
Thanks for the feedback, glad I'm not going crazy 🙂
FYI if you create the upn after its been created in Solidcp
ECP picks it up and doesn't go weird or anything.
Thanks for all of your guys hard work, its a great system. Been testing it for 2 days and very impressed,  looking forward to what's coming next
by the way is there any manual on setting up the solidcp whmcs module anywhere ?
Thanks
Claude
You are viewing 1 out of 3 answers, click here to view all answers.
Search questions
Question stats
Active

Views

4869 times

Answers

3

answers