Hi
I currently run hosted exchange and do everything manually
I'm testing out solidcp and so far its brilliant, I did notice one thing
maybe its something I haven't confirgured or something I'm missing.
It creates the org, mailboxes, evertying works, but when I go into active director domains and trust
there is no upn for the domain that was created through solidcp. Is this normal ? or is this something I need to create manually ?
please see pic attached, I created testdomain.co.za and it doesn't appear, the ones I have blocked out are my current clients upn domain suffixes
Please can you give me some feed back on this, would appreciate it
Thanks
Claude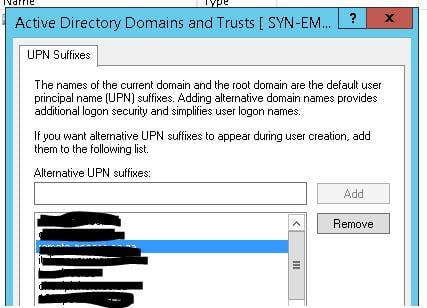 I've run into an issue where the UPN seems to get reset to the default domain – still testing right now but it might be occurring after changing the users password in OWA.  Exchange 2016 environment.
Had to go into users ad attributes and change upn setting for the user.  Or alternatively add upn to the hosted client OU, and also add the default domain upn
You are viewing 1 out of 3 answers, click here to view all answers.
Search questions
Question stats
Active

Views

5005 times

Answers

3

answers