help is really needed please, I just wanna know why scp FAILS to create the USER in SCP ONLY when his product/service has a domain name given !..
Order Accept Encountered Problems
CreateAccount Fault: (Code: 0, Message: ChangeUserStatus Fault: (Code: 0, Message: SOAP Fault: (Code: 0, Message: SOAP-ERROR: Parsing WSDL: Couldn't load from 'http://:/esPackages.as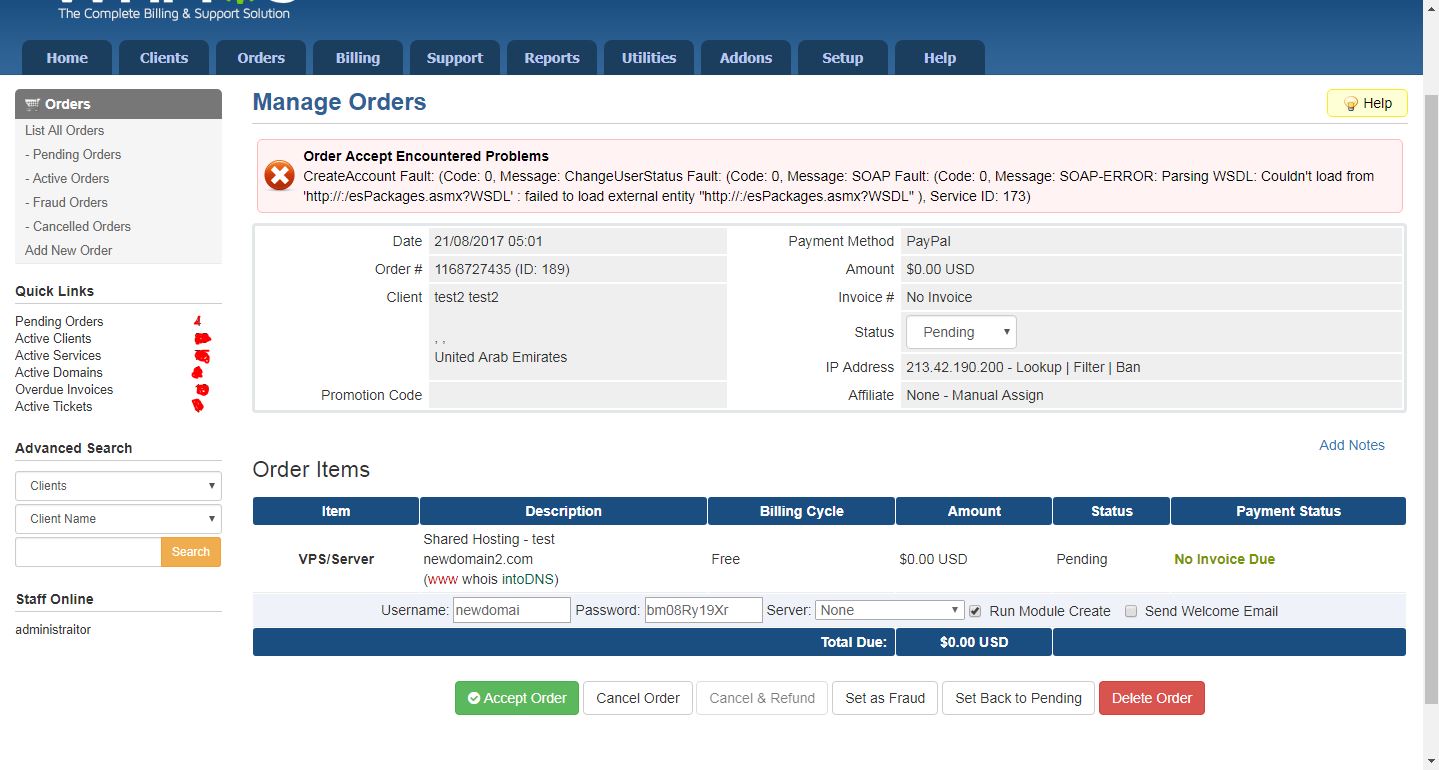 mx?WSDL' : failed to load external entity "http://:/esPackages.asmx?WSDL" ), Service ID: 169)
If I Delete the domain name and click (create) scp will create that user successfully !…
Hi guys,
I admit sometimes the customers when placing a new order they enter a random hostname just to get through the order and they enter something like this: test111.newebsite.org
I think the module will fail creating the product if the hostname is like that ! so i need to Manually edit the hostname to something like this: website.org (believe me they wont care !) then the module creates the user and assigns a hosting space successfully !
I wish as soon as an order is created it sets up the USER automatically in SCP and assign his SPACE regardless if there was something wrong in the hostname or not because as far as i could tell i had to force having a hostname in WHMCS because from there it takes the USERNAME for his VPS !.
I was hoping SCP could setup the VPS but so far i need to do that manually !…
as for bodgan question No i did not edit the part "http://:/esUsers.asmx?WSDL"?"
and those are all the fields i filled under "Servers":- (the rest are empty)
Name
IP Address
Monthly Cost 0.00
Maximum No. of Accounts 0
Type SolidCP
Username
Password
Port 9002
and Test Connection is SUCCESSFUL !.
Search questions
Question stats
Active

Views

2414 times

Answers

8

answers