See below pic adding a contact to serveradmin\ Companyname\ Exch2016_Base\ Hosted Organizations\ DomainName \ Contacts
works but when you pull up the new contact added in the Global Address Book on outlook or OWA and want to add that contact to your personal contact list the email is not test@test.com but test@DomainName.com,  in which the DomainName is equial to the company domain name you are hosting on Exchange 2016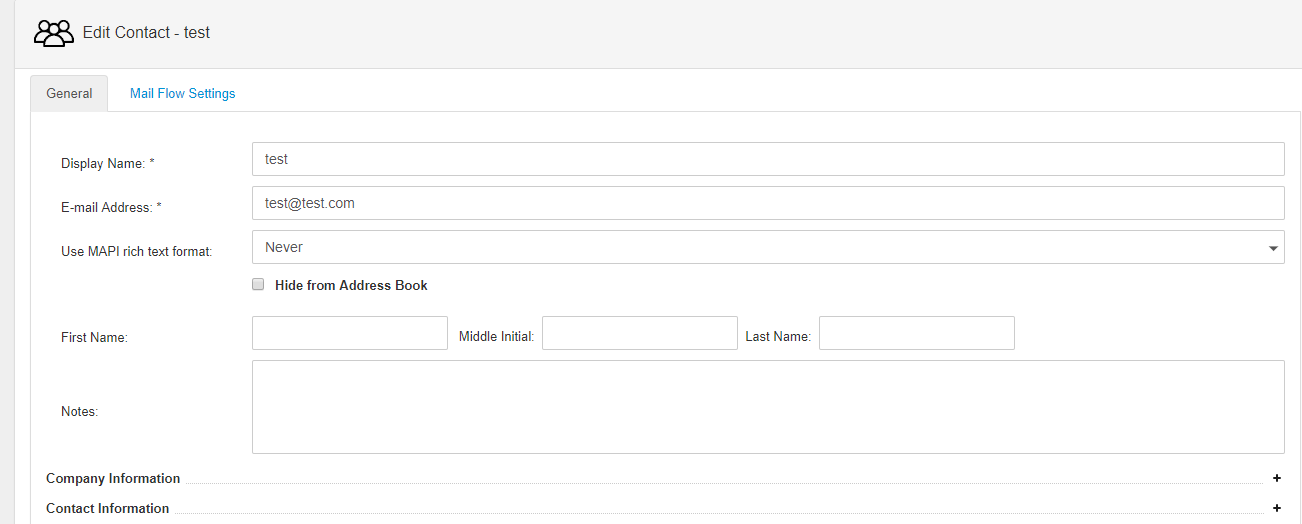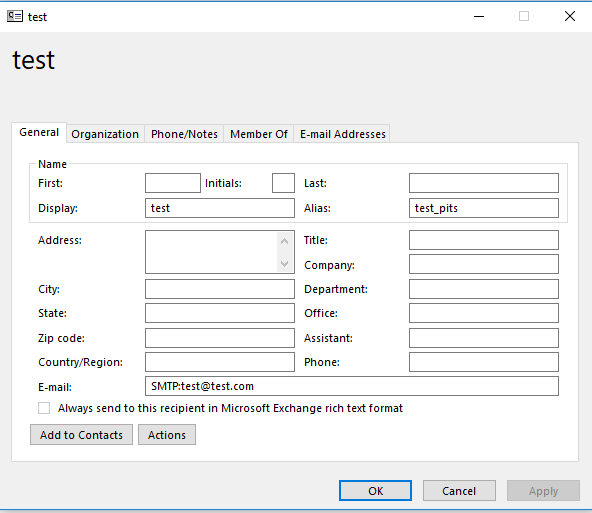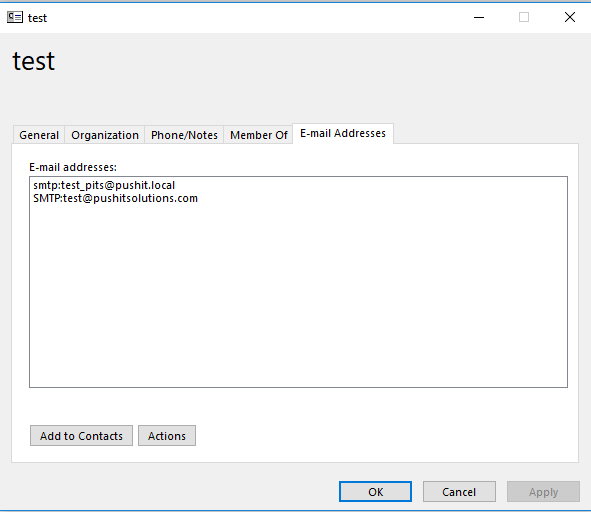 and this is was it looks like when adding that contact to your personal contacts, it shows the email address associated with the domain you are hosting and not the domain you put in for the contact email.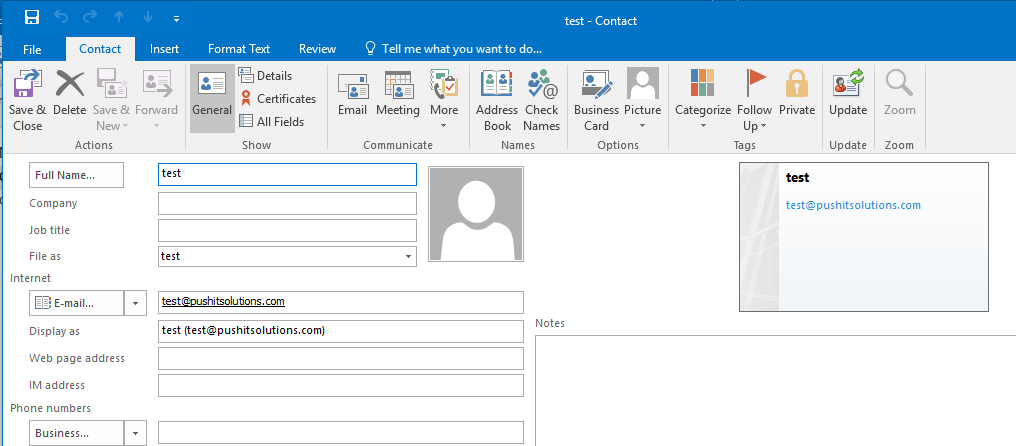 Hello,
Exchange contacts is technically a form of "forward" in exchange it self.
It basically makes the contact with the name  contact@myexchangedomain.com –> contact@theirdomain.com (this is simply how Exchange handles contacts, it would do the same if you make them in ECP where it would use your default AD Domain behind the @).
This is generally used not for address book purpouses but for getting exchange permissions such as calendar access or distribution list members and so on.
Regards,
Marco
This is a contact i created in exchange ecp directly.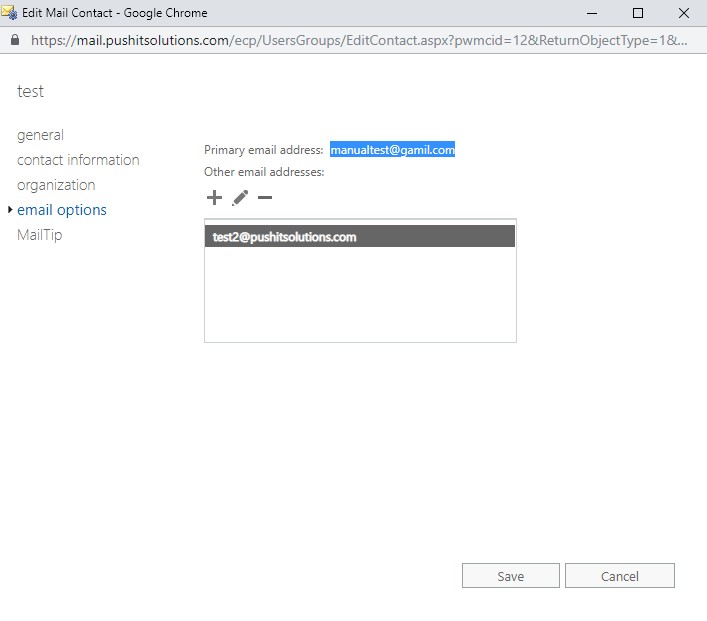 This is the same contact i created in SolidCP under same organization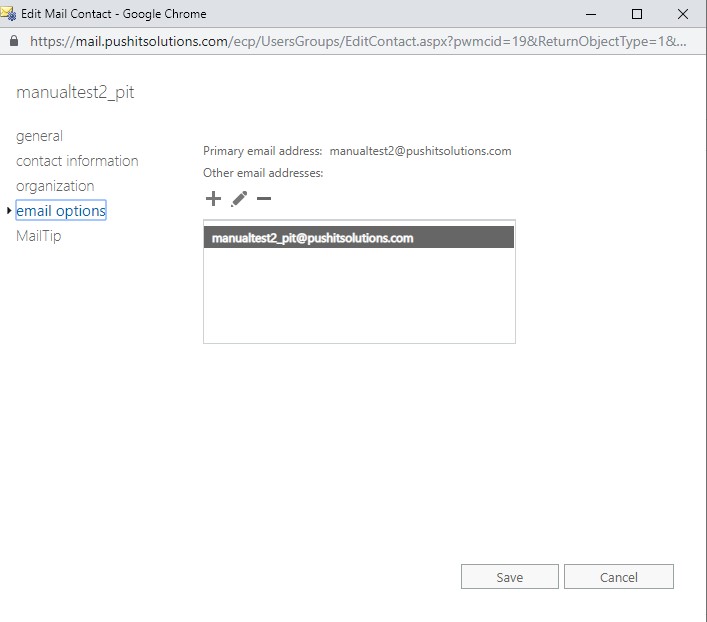 When created under solidCP the wrong domain shows up at primary email address.  Any quick fix in the enterprise/server end?
Hello,
The reason why solidcp adds it like that is for segregation aswell as "unique" contacts (even though you have for example 5x same contact in different organizations).
The main important setting here is "External email address: " which is the actual email of the user.
The rest is just how to reach the contact within the organization.
Regards,
Marco
Thanks Marco for the quick reply,  can you tell me the actual file that invokes this command and possibly the line number of the code?  I want to try to see if I can manipulate it to get the external email as a primary so when clients send emails to people in the global account list it will automatically default to the external and not the internal like it is currently doing.
Ok, but in your example how are you going to segregate organizations?
So you got 2-3 different organizations and the same external contact?
I just tried to create a contact outside of solidcp to test.. I would let solidcp do its job and segregate.  Main concert was this feature was working flawless back in 1.3.x version I believe and when recently a client wanted to create a contact the default email when you add that user from Global account list automatically has the domain for the client trying to add the client not the external email it was created with.
Search questions
Question stats
Active

Views

5536 times

Answers

8

answers