Hey Guys,
I hope all doing and safe has well
I need one help
When we add the a new domain
Clicking into Domains
Add Domain
+ Domain
Domain Name:  example.com
enabled the box: create website
enabled activated dns
click on buttom Add domain
so, go back to user menu
click into Web Sites
click into example.com
the system show:
No Web Site Pointers
and if I try to open www.example.com not run
have the dns record about www.
but not have Pointing www into IIS10
so I and our custommers need to create Manually the www pointing
the question :
How I can setup solidCP to autoCreate www pointing when the domain is addedd has website ?
thanks,
Rodrigo
Hello,
Normally this is done via the Web server settings in SolidCP –> Configuration –> Servers –> Your webservice.
At the bottom it has "DNS Records" which should look like this: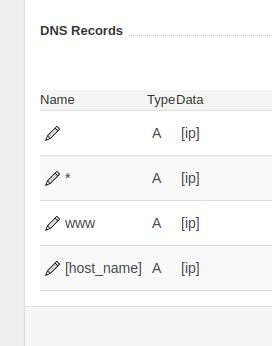 Regards,
Marco
Search questions
Question stats
Active

Views

1360 times

Answers

1

answer