[Solved]

Public Folder creating error in autodiscover
Situation:
Migrated from an Exchange 2010 to Exchange 2016. WSP was installed on Exch 2010, now we run on SolidCP 1.1.1
Customer are getting pop up to allow autodiscover to make configuration changes etc when setting up Outlook.
The problem is the users get a message about another hosted tenant.
We do not use PF at all and want to get rid of this problem
(PS even if we manually delete PFs and associated mailboxes from Exchange ECP they are automatically recreated)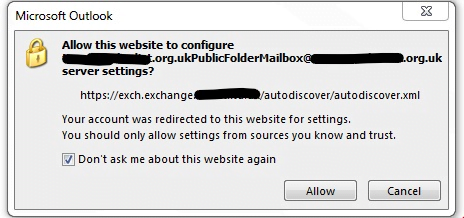 Hello,
The thing your seeing is the "default public folder" assignment on every exchange mailbox.
this is a change since Exchange 2013.
SolidCP therefor creates 1 public folder for each organization to "lock them in" and not allow them to see any address or anything from another organization.
Since you migrated your existing organizations will need to have them created, and set the default PF per OU.
the first thing to make sure is:
Create your primary hierarchie in Public folders area of ECP. (this is normally the first PF ever created, and can never be removed, i normally make this outside of SolidCP).
Once verified you have the primary hierarchy, you can run a script we build a long time ago to create all pf mailboxes and pf folders AND assign them the default PF per OU. Do note it will throw back errors if things already exists (this is expected behaviour and can be ignored, it will continue to run and only creates / assigns to the OU's who don't have it yet).
http://installer.solidcp.com/Files/stable/Tools/PFFix.zip
You can download and run this script from inside the Exchange shell.
Regards,
Marco
Thank you for the quick answer
So to get it straight i have to
recreate the default PF and mailbox (deleted EVERYTHING)
Create one PF Per hosted domain
Run that script per DOmain ( OU) ?
Can we just DISABLE PF for ALL users?
No, unless your missing the Primary hierarchy. Aslong as you got a primary hierarchy your 100% sure will never be deleted your all good with step 1.
no, just run the script, it will do this for you.
no, just fill your root information in at the top 3 lines of the script, and run it. it will then do everything for all OU's below it fully automated.