Exchange Cross Forest Migration
Hello community,
We have the following scenario in mind for a cross forest migration.
Points 1 to 3 are tested and working, but how do I implement point 4?
Create Customer in SolidCP
Create Mail Enabled User in ECP
Migrate User from source Exchange Server (on prem customer) to our hosted exchange with Exchange Mailbox Replication Service
Provision or import this User/Mailbox to SolidCP
Hello,
The last step (4) is by using the Enterprise import tool.
Also please make sure that the Attribute1 and 3 are set correctly for the Organization (else functions like setting permissions won't work properly in SolidCP).
Regards,
Marco
Hello community
am at step 4 and because it's not working I found this post 😉 .
When starting the import-tool and browsing for the desired OU, the users I want to import are visible in the tree: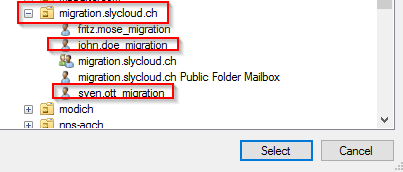 But when I arrive at the last step, only a testuser created by SolidCP and the PublicFolder-MBX show up: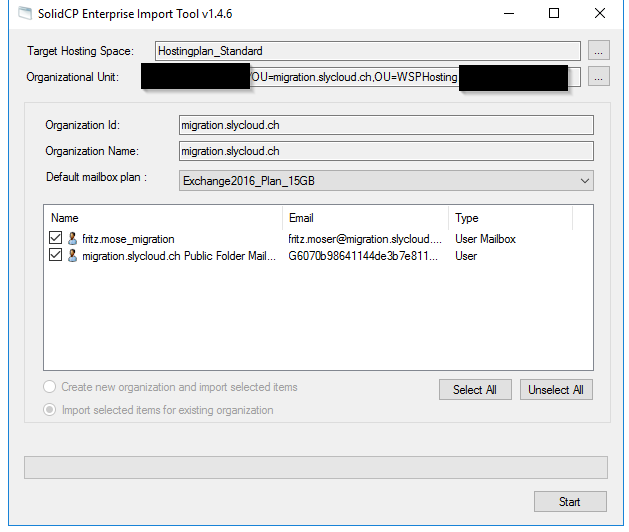 I compared AD-attributes of a migrated user and one I created with SolidCP in the new forest, aligned attribute 1 and 3 and even cleared the Company-Attribute on the migrated users - they still don't show up for import.
Does anybody have an idea what I missed or did wrong?
Thanks a lot and best regards!
Hello,
That is a strange issue postmaster11.
Do you see any difference in the security privileges on the 2 mailboxes?
Regards,
Marco
Hello Marco
thanks for your reply. I sorted it in the meanitme. After exporting attributes using different commands (mailbox, recipient, aduser) I found an attribute named "IsValidSecurityPrincipal" that was set to false on the for SolidCP invisible accounts. Maybe this is related to the fact, that the accounts could not be automatically enabled by the moverequests because of weak passwords. However, enabling the accounts did not lead to the attribute being set to true. But after changing ANY attribute on the user (I have to change 2 customattributes) the "IsValidSecurityPrincipal" is magically (and until now 100% reproduceable) set to true and the import-tool is able to import the users.
cheers, Sven