Instal Joombla from Web Gallery error
Hi,
I get this error when I try to install Joombla:
Following dependencies may be missing:
- PHP 5.4.45
- Microsoft Visual C++ 2008 Redistributable Package
- Windows Cache Extension 1.3 for PHP 5.4
I have install:
PHP 7.4.13
I tryed to additionaly install PHP 5.4.45 but I just cant install it thru Web Platform Installer, I get this error as on photo attached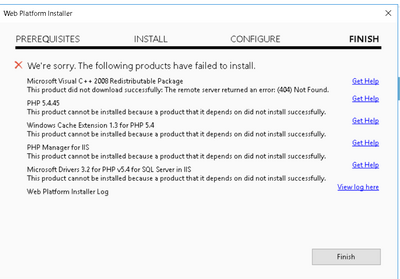 Please help
Hello,
WebPI has been marked as end of life with alot of the links being broken in recent times. You can try manually install the dependencys and this will sometimes allow you to install the webapp however do note the webapps are largely out of date also.
Regards,
Trevor
Hi,
I installed it manually and it works OK.
Is there any chance we can build our own xml to replace WAI that is not updated anymore?
Dou you know what format should it be, do you have an example with just one application like Joomla in it 😉
Thx
Domagoj