DNS Zone Records - Double entrys
Dear colleagues, I have the following problem:
When I edit an entry in the DNS zone records, the entry appears twice at once.
Example I create an A entry, so I have the A entry in the web interface at once equal to 2 times.
If I delete one of the duplicate entries, the second entry disappears too.
ATTENTION SUPPLEMENT:
This problem only occurs with the domain where SolidCP is installed!
All other domains are not affected
ATTENTION SUPPLEMENT 2:
Now it affects also all other domains
Hello,
Do you see this in the DNS Editor directly aswell or only within SolidCP that it lists double entries?
Please note SolidCP does not actively modify/ change any domains (in our outside SCP) it only adds/modifies/removes a record / zone on request.
Regards,
Marco
Hello Marco, i see this double entrys only in SolidCP and not at the NS Server ( DNS ) self.
When i create a new entry and check the DNS Server, i see that only one entry is created but in SolidCP i see 2 entrys.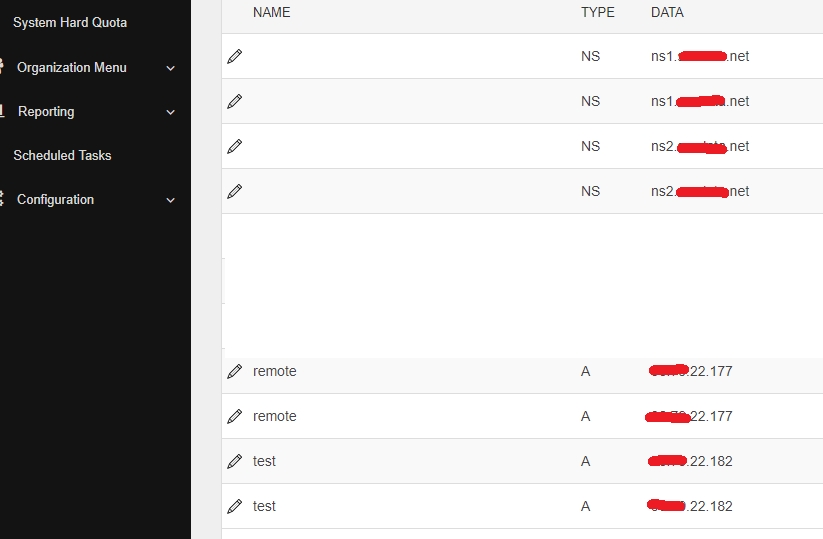 Hello,
Can you confirm if it is showing the sub entries in the com folder fine or is this broken?
We are not aware of any issues with Microsoft DNS currently.
Regards,
Trevor
Hi Trevor, the issue i have now with all Domains, when i create,change or edit now a entry at the SolidCP DNS, it Shows me the entry at the SolidCP Control Panel double, the entrys in the MS DNS are correct and i see only one entry.